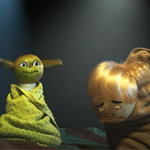 "Judge me by my size…", Star Wars Uncut Scene 275 from Vin Rowe on Vimeo.
This past weekend I threw together what's actually my second scene for Star Wars Uncut: The Empire Strikes Back. Mika and Ramona kindly provided the voices, an apple and two pickles kindly provided Yoda's head, and everything else was lying around the house.
Oh, to put this in context, Luke Skywalker has just tried and failed to use the Force to extract his X-wing starfighter from the swamp on Dagobah.